Josh Sitton doesn't take back any of his comments about Detroit. (USATSI)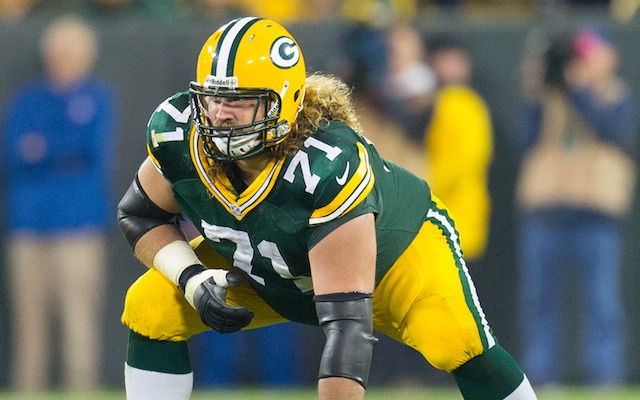 Packers guard Josh Sitton surely didn't make himself any friends on the Lions squad this week when he ripped Detroit, saying, "They go after quarterbacks, their entire defense takes cheap shots all the time. That's what they do, that's who they are. They're a bunch of dirtbags or scumbags. That's just how they play. That's how they're coached."
Go on ...
"That starts with their frickin' coach. That starts with their head coach, [Jim] Schwartz. He's a dick, too," Sitton said. "I wouldn't want to play for him. It starts with him and their D-coordinator and their D-line coach. They're all just scumbags and so are the D-line."
Well, turns out the Lions dominated the Packers 40-10 on Thursday, and Detroit's defense continuously hammered Green Bay quarterback Matt Flynn while allowing only 126 total yards.
Afterward, Sitton was a natural for postgame reaction. In short, he didn't backtrack.
"I said what I said," Sitton told reporters. "I'm not taking it back."
In all, Detroit forced three turnovers -- two fumbles by Flynn and an interception -- and the Lions sacked him seven times.
As far as motivating his opponents, Sitton didn't think his comments had much of an impact.
"We're grown men," Sitton said. "We don't need extra motivation, and if you do, it's kind of silly. We're in the NFL. At least I'm self-motivated. I don't need anything else to motivate me."
But that doesn't mean Sitton couldn't appreciate the Lions performance.
"They played good," Sitton said. "I mean, they played good up front. No one ever said they're not a good front. We know that. I think they're probably the best inside front probably in the league. But like I said, I don't take anything I said back."
Follow Josh Katzowitz on Google+
Topics: Josh Sitton, Matt Flynn, Detroit Lions, Green Bay Packers, NFL
You
The original content comes from
Cbssports