By
Russell S. Baxter
(Featured Columnist)
on November 4, 2013
1,068
reads
Share
Tweet
Use your ← → (arrow) keys to browse more stories
Previous
1 of 15
Next
Referee: "Do you know that your team is currently the No. 1 seed in the NFC?" Pete Carroll: "Coming from you, that makes it official."
Steve Dykes/Getty Images
Following Monday night's tilt between the Chicago Bears and Green Bay Packers, every team in the NFL will have played at least eight games in 2013.
So what does that mean in terms of where all of them stand come the playoffs, which will be here sooner than you think?
Enclosed for your convenience is a look at the current postseason matchups as we stand today. It's intriguing to see some new faces from a year ago, as well as some old faces that are on the outside looking in for now…emphasis on for now.
On the Bubble
Andrew Weber-USA TODAY Sports
Listed below are the Top 4 teams in each conference that are currently on the outside looking in come playoff time. The number attached is current seeding in each conference…
AFC
7. Tennessee Titans (4-4): Very quietly Mike Munchak's team has settled into second place in the AFC South and still has five games remaining versus their divisional rivals. Running back Chris Johnson had 150 of the team's 198 yards rushing in Sunday's 28-21 win over the St. Louis Rams.
8. Miami Dolphins (4-4): The Dolphins awoke from a four-game losing streak Thursday night thanks to defensive end Cameron Wake's sack and safety in the 22-20 win over the Cincinnati Bengals. The offensive line remains an issue in more ways than one.
9. San Diego Chargers (4-4): When quarterback Philip Rivers hangs onto the football, this is a dangerous team. As usual, consistency remains an issue. After not giving up a touchdown in two straight games, the Chargers allowed 30 points and 500 total yards in Sunday's overtime loss to the Washington Redskins.
10. Cleveland Browns (4-5): The Browns snapped an 11-game losing streak to the rival Baltimore Ravens on Sunday and suddenly find themselves in second place in the topsy-turvy AFC North. The defense has been steady all season and veteran quarterback Jason Campbell has provided a little spark.
NFC
7. Detroit Lions (5-3): Jim Schwartz's team has already won one more game than it did in all of 2012. The Lions play two straight road games (at Chicago and at Pittsburgh) after their off week and they are far from out of the NFC North title race. But can they find a way to beat the Green Bay Packers?
8. Chicago Bears (4-3): After a 3-0 start, Marc Trestman's team was opening a lot of eyes with the improved play of the offensive line and the ability to protect quarterback Jay Cutler. But the latter is out for now. And what has happened to the Chicago defense?
9. Arizona Cardinals (4-4): Bruce Arians was NFL Coach of the Year in 2012 as an assistant with the Indianapolis Colts and he is off to a good start in 2013 in his first gig as the main man. The Cards return from their off week and face three straight AFC South opponents.
10. Philadelphia Eagles (4-5): Seven touchdown passes by second-year quarterback Nick Foles in Sunday's 49-20 win over the Oakland Raiders was something to marvel at. But why can't the Eagles win in their own building, where the Birds have dropped 10 straight?
AFC No. 1 Seed: Kansas City Chiefs (9-0)
Kevin Hoffman-USA TODAY Sports
Playoff Opponent: First-Round Bye
Summary
It's amazing to think a team that comes off a 2-14 disaster is now guaranteed a winning season after just nine weeks.
Andy Reid's Kansas City Chiefs continue to march on even if the marching isn't pretty. The offense failed to score a touchdown in Sunday's 23-13 win over the Buffalo Bills. Instead, the defense took matter into its own hands, returning a pair of Bills' turnovers for scores and once again holding a team to 17 points or less.
The victory gives the Chiefs the No. 1 seed in the AFC as we speak. Of course, playoff talk is a touchy subject in Kansas City considering the team hasn't won a postseason game since 1993.
AFC No. 2 Seed: New England Patriots (7-2)
David Butler II-USA TODAY Sports
Playoff Opponent: First-Round Bye
Summary
Is everybody happy?
The New England Patriots finally exploded in terms of the scoreboard thanks to a stunning 55-31 win over the Pittsburgh Steelers on Sunday.
Bill Belichick's team rolled up 610 total yards on the Black and Gold. More importantly, they maintained their two-game lead over the New York Jets in the AFC East.
The victory also kept the Patriots just two games behind the Kansas City Chiefs for the top seed in the AFC as Belichick and company take some time off. When they return, the Pats will play four of their final seven games away from home.
AFC No. 3 Seed: Indianapolis Colts (6-2)
Playoff Opponent: vs. N.Y. Jets (5-4)
Summary
It takes more than a little luck to come all the way back from an 18-point deficit on the road.
Okay, it takes a lot of Luck…and a T.Y. Hilton.
The Indianapolis Colts stayed two games ahead of the Tennessee Titans in the AFC South with Sunday night's 27-24 come from behind win over the Houston Oilers.
That gives Chuck Pagano's team the No. 3 seed spot in the AFC playoffs as we speak, which means they would face the upstart New York Jets in the first round. Three years ago, in what proved to be Peyton Manning's final game with the Colts, the Jets came away with a 17-16 wild card victory.
Of course, it is safe to say we haven't seen the last of quarterback Andrew Luck.
AFC No. 4 Seed: Cincinnati Bengals (6-3)
Robert Mayer-USA TODAY Sports
Playoff Opponent: vs. Denver Broncos (7-1)
Summary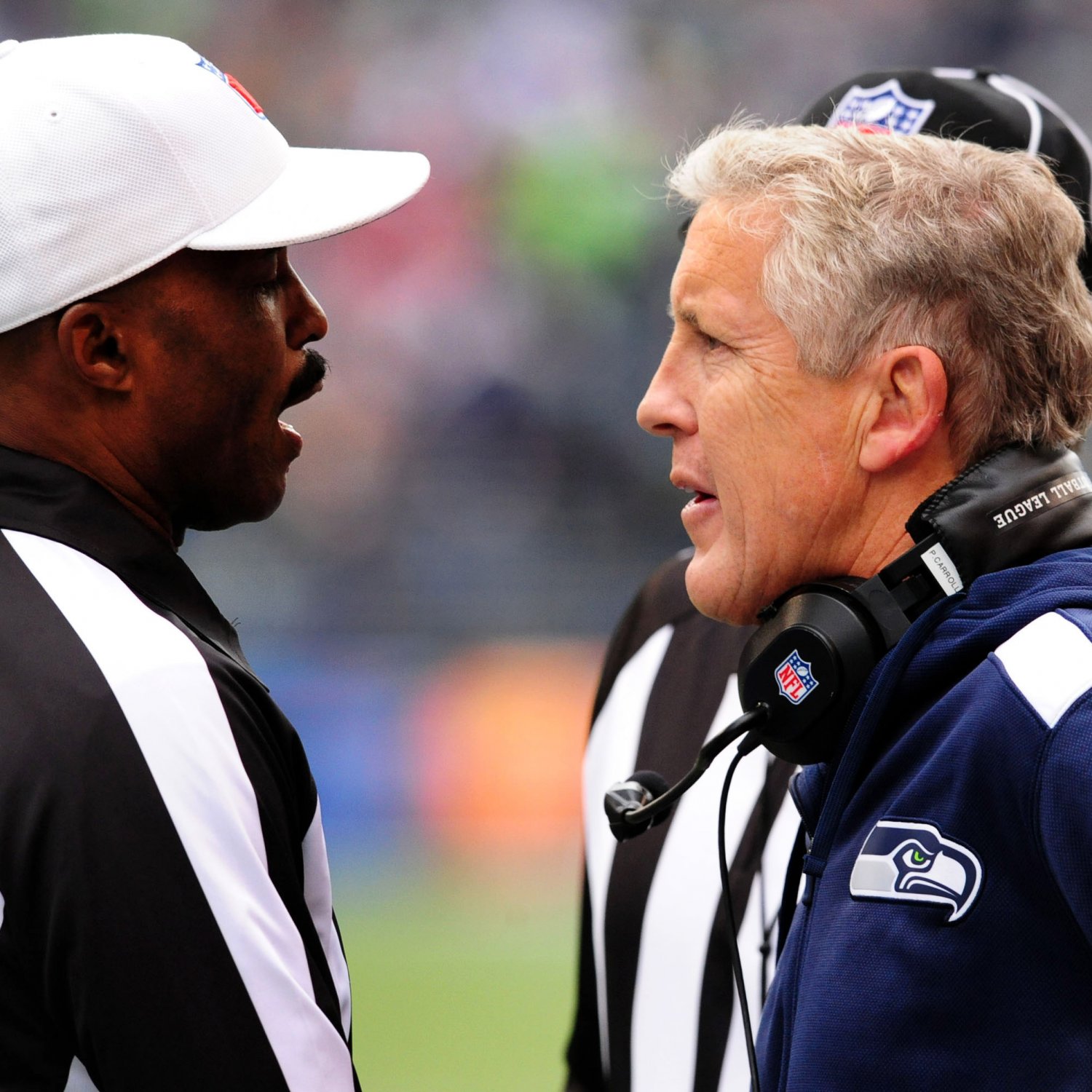 It's not easy to lose twice in one evening. But the Cincinnati Bengals must have felt that way after watching their four-game winning streak end at Miami on Thursday night.
Not only did Marvin Lewis team fall in bizarre fashion to the Miami Dolphins thanks to an overtime safety, 22-20, but the defense lost two-time Pro Bowl defensive tackle Geno Atkins for the season to a knee injury.
In the loss, quarterback Andy Dalton committed four turnovers and was sacked for the safety in Thursday night's loss. In his three previous games, the third-year pro threw 11 touchdown passes and just two interceptions.
That hit-or-miss performance won't get it done against the explosive Denver Broncos, even in Cincinnati.
AFC No. 5 Seed: Denver Broncos (7-1)
Chris Humphreys-USA TODAY Sports
Playoff Opponent: at Cincinnati Bengals (6-3)
Summary
If the Denver Broncos can build on what they did in the second half of their 45-21 win over the Washington Redskins in Week 8, this team is capable of some big things.
We are not talking about the fact that Peyton Manning and company scored the final 38 points of that game. More of the fact that the much-maligned Denver defense corralled the 'Skins offense, something we haven't seen much of this season to date.
Then again, we haven't seen much of outside linebacker Von Miller, now back in the lineup after serving a six-game suspension. Manning and Cincinnati Bengals quarterback Andy Dalton would be seeing plenty of heat from both defenses should the teams clash in the playoffs as it stands now.
But first things first and that's the speedy recovery of Broncos head coach John Fox.
AFC No. 6 Seed: New York Jets (5-4)
Playoff Opponent: at Indianapolis Colts (6-2)
Summary
Considering the New York Jets can't win two games in a row this season, a trip to the playoff would be short-lived anyway.
But the craziness that is the 2013 season for the Green and White continues. For the third straight week,
Rex Ryan's team played a division leader and in two of those instances, they came up winners. The home wins over the New England Patriots and New Orleans Saints are certainly confidence builders.
Then again, those victories sandwiched a 49-9 loss to the Cincinnati Bengals.
So as quarterback Geno Smith and that rugged defense head into the team's off week, the Jets know they could be playoff-bound and would face Andrew Luck and the Indianapolis Colts as it stands today. And if the 2013 pattern continues, they will be an 8-8 wild card team that wins at Indianapolis…and loses a week later.
NFC No. 1 Seed: Seattle Seahawks (8-1)
Steven Bisig-USA TODAY Sports
Playoff Opponent: First-Round Bye
Summary
We have come to accept the fact that the Seattle Seahawks are a dramatically different team away from home compared to how they perform at home.
Over the last seven days, that notion may have to be re-evaluated, especially after managing to escape at home on Sunday against a winless opponent.
Yes, the Seahawks are off to the best start in franchise history and are currently riding a four-game winning streak. And it's not the fact that the team squeaked by the St. Louis Rams (14-9) and Tampa Bay Buccaneers (27-24 in overtime), it's the nature of the performances.
Carroll's defense have allowed 200 and 205 rushing yards, respectively, in their last two games. And quarterback Russell Wilson has been sacked 27 times and committed 11 turnovers this season.
Still, it is 12 straight home wins and counting in the league's toughest place for opponents to play.
NFC No. 2 Seed: New Orleans Saints (6-2)
Robert Deutsch-USA TODAY
Playoff Opponent: First-Round Bye
Summary
Do you think it is important that the New Orleans Saints play some playoff games at home?
For the second time in three weeks, Sean Payton's club headed to the east coast and came up short. The Saints fell to the New York Jets, 26-20, and looked sloppy in the process.
The sloppiness came in the form of giving up 198 yards rushing to Rex Ryan's team. And while this is a much-improved defensive unit from a year ago, the inability to stop the run remains a major concern for the team.
Still, there's hardly room for panic. But it should be noted that the Saints are suddenly only one game ahead of the 5-3 Carolina Panthers in the NFC South. The teams have yet to meet this season and as we all know, the failure to win a division title puts you immediately on the road come playoff time.
Food for thought (and that's not a bad thought when it comes to New Orleans).
NFC No. 3 Seed: Green Bay Packers (5-2)
Brace Hemmelgarn-USA TODAY Sport
Playoff Opponent: vs. Carolina Panthers (5-3)
Summary
Although Mike McCarthy's team is currently the No. 3 seed in NFC, the Green Bay Packers' favorite number these days is four…and counting.
Winners of four straight games following a 1-2 start, the Pack has been back for a month or so. And a win on Monday night at Lambeau Field against the Chicago Bears would keep quarterback Aaron Rodgers and company undefeated versus their NFC North brethren this season.
Thanks to rookie running back Eddie Lacy and a defense that continues to get the job done, Green Bay remains on course for a third straight division title.
Still, as it stands now, the Packers would face the very-hot Carolina Panthers in the first round of the playoffs. Cam Newton and company are riding their own four-game winning streak these days and their defense may be the best in the league these days.
NFC No. 4 Seed: Dallas Cowboys (5-4)
Playoff Opponent: vs. San Francisco 49ers (6-2)
Summary
Another week and another Dallas Cowboys game filled with late heroics.
Only this time, quarterback Tony Romo and company were the late heroes.
The Cowboys rallied for a 27-23 victory over the Minnesota Vikings to raise their record to 5-4 and maintain their one-game lead in the NFC East.
While the win keeps Dallas above the .500 mark, nothing can mask the play of a defensive unit that couldn't stop a thought from passing these days.
And when you consider that Vikings running back Adrian Peterson ran for 140 yards and a score on Sunday, the ability to stop the run remains in questions as well. And that's really bad news when facing the power game of the San Francisco 49ers this season.
NFC No. 5 Seed: San Francisco 49ers (6-2)
Kirby Lee-USA TODAY Sports
Playoff Opponent: at Dallas Cowboys (5-4)
Summary
Just what the physical San Francisco 49ers needed…a week off so they can get rejuvenated and continue to pound the opposition.
It's hard not to like what you see from the two-time defending NFC West champions and reigning conference champions these days.
Winners of five straight games and owners of the league's top running game entering Week 9, the Niners have scored 31 or more points in each of those five contests. And a defensive unit that struggled late last season and through the first three weeks of 2013 has gotten its act together.
But just think if the Niners and Dallas Cowboys would once again clash in the postseason. Memories of six NFC title game clashes and seven playoff meetings overall would be filling our television screens. And unfortunately for the defensively-challenged Cowboys, it may be the 49ers filling the stat sheets with a lot of yards.
NFC No. 6 Seed: Carolina Panthers (5-3)
Playoff Opponent: at Green Bay Packers (5-2)
Summary
Here they come…and with cat-like quickness.
The Carolina Panthers have shrugged off a 1-3 start and now find themselves just one game behind the New Orleans Saints in the NFC South race.
Not bad for a team that has opened each of the previous two seasons with a 2-8 mark.
In Sunday's 34-10 win over the reeling Atlanta Falcons, the Panthers allowed a first-half touchdown for the first time all season. Of course, that was the only time the Falcons reached the end zone. In eight games this season, Ron Rivera's club has allowed a total of nine touchdowns.
As of now, the Panthers would be headed to Lambeau Field for a first-round matchup with the Green Bay Packers. And wouldn't it be interesting to see linebacker Luke Kuechly and company trying to corral quarterback Aaron Rodgers?
Begin Slideshow
Keep Reading
Share
Tweet
G+
Flag Article
This article is
a duplicate
offensive
plagiarized
What is the duplicate article?
Why is this article offensive?
Where is this article plagiarized from?
Why is this article poorly edited?
Flag This Article
More Articles You'll Like
Week 10 NFL Power Rankings
Studs, Duds for NFL Week 9
Expert Takeaways from Sunday's Action
or sign up
http://bleacherreport.com/articles/1835978-nfl-playoff-picture-analyzing-the-latest-scenarios-for-week-10