October 25 [Sun], 2009, 16:23
((My first entry! I apologize if I fail to use this site correctly. My japanese skills are crude at best.))
My outfit was not very good today, I admit.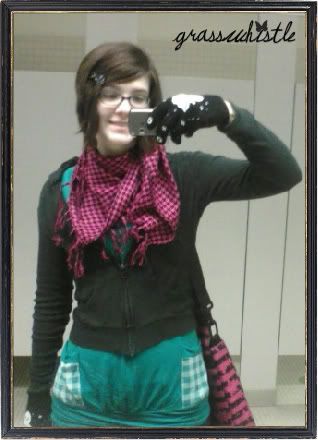 I wonder to myself, "Why do I never look up from the ground?"
The peculiar, rough shapes of the rocks below are comforting. To look up and see a human face is to acknowledge your own existence as a mortal human, isn't it..?
I am a coward, entirely... I...
Every day I worry that the day was not full enough, and that no matter what I do, I will waste my life away. Today I regret yesterday and all my previous days. I feel this is how it will be until I am old, dying on a tear stained mattress, alone.
Maybe if I make friends in this new town, I will no longer feel this way... I've heard that socializing makes people happy. Is this true? I wouldn't really know. I can't stand to think of how much time I've wasted, how far I am behind, how I've newly formed wrinkles beneath my eyes... I don't wish to look into the eyes of another human and be reminded of this.
Today I was sitting alone in a deli, eating a salad I'd packed from home. I watched all the people pass, and admired how they could speak freely with one another. It made me sad that I was not talking to someone, too.
I watched a deli worker speak with the customers for a long time, and felt accomplished. It felt like I was speaking to them instead of him, since I'd observed him for so long. Sometimes my imagination takes me to happier scenes than the ones my cowardice cages me in.
In retrospect, I think it's funny that I packed a salad to visit a deli. Isn't it usual to buy something from them instead? I suppose it reflects my loneliness and social misunderstandings. I came to the deli to hopefully meet new friends or to talk to the worker on his lunch, instead of coming to eat. Ha... Next time I should choose a better place to meet people. The deli was somewhat quiet.
There was a middle aged man who passed by me while smiling, and waved a little at me... I didn't know him, so it confused me. Strangers typically don't act like old friends to each other. Maybe since he was alone, and I was alone, he figured that we were both friends with loneliness, and therefore friends ourselves.
At least, that's how I'd rationalize it if it were me waving at an anonymous younger girl.