Buffalo's leading receiver, Stevie Johnson, has been ruled out for Sunday's game. (USATSI)
If the Bills are going to beat the New York Jets on Sunday, they're going to have to do it without two of their three leading wide receivers. The team announced on Friday that Stevie Johnson and Robert Woods have both been ruled out of Sunday's game.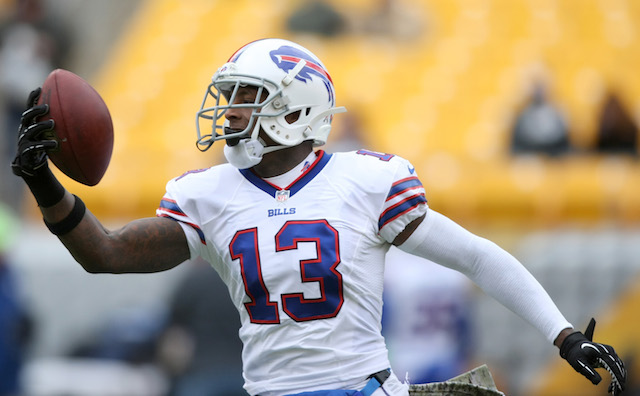 Johnson injured his groin in the Bills 23-10 loss to the Steelers last week and hasn't practiced at all this week. This will be the second game this season that Johnson has missed, the 26-year-old also missed the Bills Week 6 loss to the Bengals with a back injury. Johnson leads the team in every major receiving category this season with 41 catches for 471 yards and three touchdowns.
The Bills will also be without Woods for the second straight game. The rookie wide receiver hasn't practiced since injuring his leg in the Bills Week 9 loss to the Chiefs. Woods is officially ruled out this week with an ankle injury.
With Woods and Johnson both out, that means the most productive receiver on the Bills roster who will be suited up on Sunday is second-year receiver T.J. Graham. Graham's caught 16 passes for 198 yards and no touchdowns this season.
EJ Manuel's favorite target on Sunday probably won't end up being a receiver at all though. The rookie quarterback still has tight end Scott Chandler and running backs Fred Jackson and C.J. Spiller to throw too. Chandler (388) and Jackson (252) have the second and fourth most receiving yards on the team.
Topics: C.J. Spiller, EJ Manuel, Fred Jackson, Robert Woods, Scott Chandler, T.J. Graham, Buffalo Bills, Cincinnati Bengals, Kansas City Chiefs, New York Jets, Pittsburgh Steelers, NFL
You
This news comes from
www.cbssports.com/nfl/eye-on-football/24238801/bills-wr-stevie-johnson-wr-robert-woods-ruled-out-vs-jets