By
Tom Smeaton
(Featured Columnist)
on November 22, 2013
reads
Share
Tweet
Use your ← → (arrow) keys to browse more storiesNext
Thearon W. Henderson/Getty Images
Remember when the San Francisco 49ers' beleaguered passing attack was supposed to be saved by two ailing wide receivers? Mario Manningham's recent return should represent half of that promise, but the 49ers have yet to see results on the stat sheet or in the win column.
While the team continues to wait for injured wideout Michael Crabtree, Manningham has now participated in two full games. Coming off of an ACL tear near the end of the 2012 regular season, Manningham was projected to immediately bolster one of the weakest receiving corps in the NFL.
In a sense, Manningham has done that, at least relatively speaking. With former 49ers wideout Kyle Williams now running routes in Kansas City, Manningham is already second on the active roster in catches, targets and yards among wide receivers.
Mario Manningham Through Two Games in 2013
Catches
Targets
Yards
TDs
Week 10 vs Panthers
30
Week 11 @ Saints
Totals
10
38
ESPN.com
As is always the case, however, the true story is told beyond the box score. While Manningham's numbers are unimpressive, there have been flashes of effective play when he was properly utilized.
When the 49ers signed Manningham last offseason, they got a good No. 3 receiver with fringe potential as a starter. According to his Pro Football Weekly scouting report for free agency, his best qualities included quick feet and a knack for evading press coverage.
On the surface, that looks like a great recipe for improving this year's 49ers.
Against Carolina in his 2013 debut, Manningham was successful running quick, short patterns. He ended the day as the team's leading receiver on a rough outing for the offense as a whole.
On this theme, Manningham's first catch of the season was made on a 10-yard curl route in the first quarter. He was targeted next on this incompletion early in the second quarter.
h/t Game Rewind
In this instance, a tight route and quick cuts gave Manningham plenty of room by the sideline. A hesitant and errant throw sailed out of bounds, leading to the incompletion.
Later in the game, on one of the first plays in the fourth quarter, Manningham gained 14 yards on this quick slant. While the play was negated by a pass interference penalty on receiver Anquan Boldin, it showcased how Manningham's quick first step can take pressure off of quarterback Colin Kaepernick.
h/t Game Rewind
h/t Game Rewind
On a drive starting on the team's own 1-yard line with five minutes remaining, Manningham gained 14 yards on another quick slant. Combing a sharp, quick cut and a well-timed throw, Manningham was able to pick up yards after the catch for a productive gain despite unfavorable circumstances.
h/t Game Rewind
For as much success as Manningham had in the loss to Carolina, he was nearly invisible in last week's loss at New Orleans. The veteran wideout only caught one pass and was essentially phased out of the game plan in the second half.
However, a lot of this can be attributed to scheming.
While Manningham excelled with short patters in his first game back, he was continuously utilized on slow-developing deep routes in Week 11. This was obvious from the get-go, targeting Manningham on a straight seam route on the first play of the game.
h/t Game Rewind
This pass ultimately fell incomplete, as did Manningham's next target later in the first quarter. On a deep out pattern, the recovering receiver gained little separation on a slower route that appeared doomed from the start.
h/t Game Rewind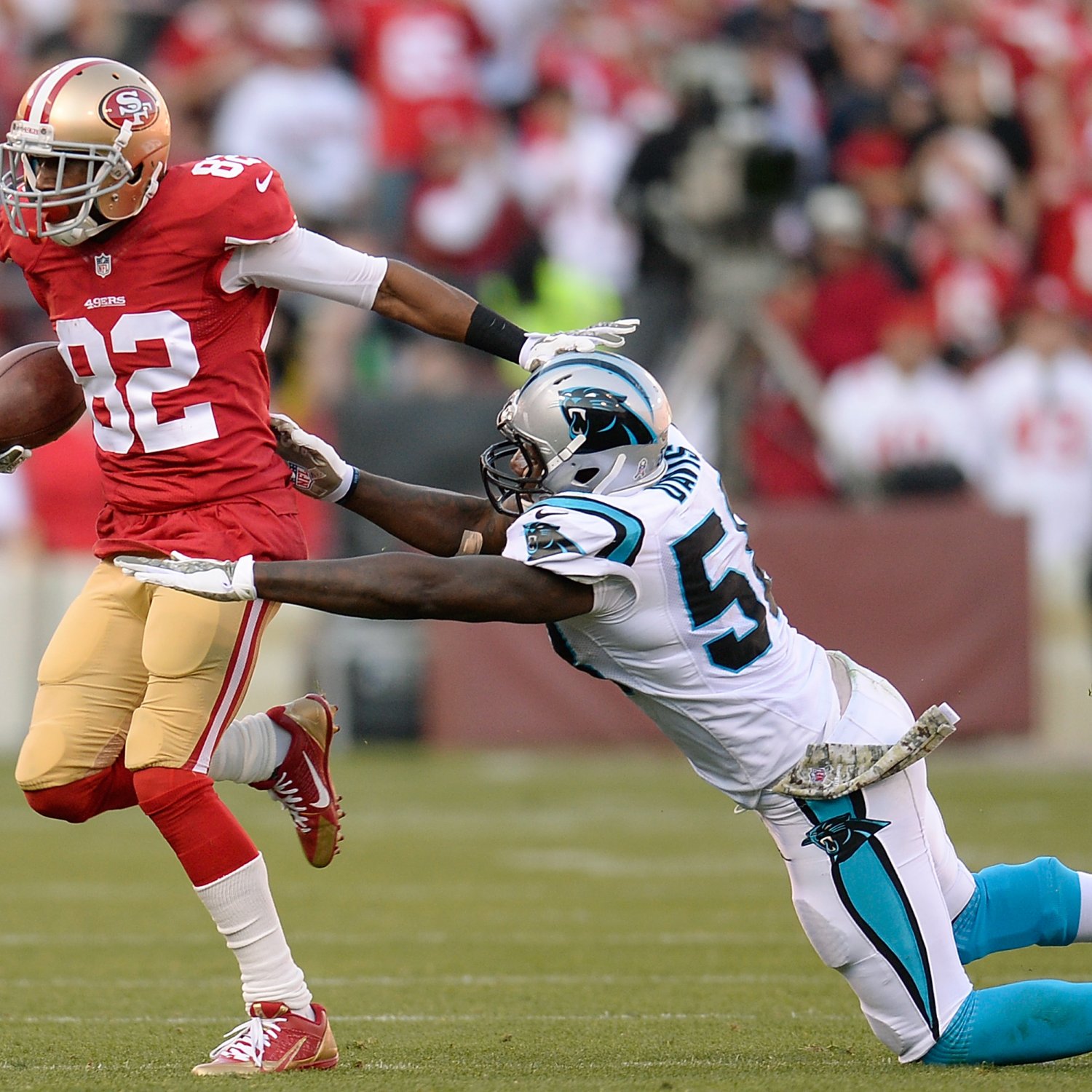 Manningham did record a catch on a short 8-yard pass, but was largely avoided following Kaepernick's second quarter interception. Targeting Manningham on a post, Kaepernick was jumped by Saints cornerback Corey White for a critical pick.
h/t Game Rewind
After this interception, Manningham was only targeted twice for the remainder of the game, according to Matt Barrows of the Sacramento Bee.
While Manningham was ideally used in his season debut, the team failed to capitalize off of this in his second effort. Instead of taking advantage of his quick first step, Manningham's lack of elite deep speed was exposed on slower patters against the Saints.
As the team waits for Crabtree to return, the entire scenario speaks to the team's strategy to rely on these two players to contribute immediately upon their returns. While Manningham has always been a good complementary receiver, expectations should have better reflected that reality coming off of a serious injury.
I mentioned earlier that outside of Boldin, rest of #49ers WRs have total of 185 rec yds. They're also averaging 3.7 yards per target. (1/2)
― Jeff Deeney (@PFF_Jeff) November 21, 2013
In other words, Crabtree is clearly the bigger piece to the puzzle. But coming off of an Achilles tear, can the team truly expect their leading receiver from 2012 to regain his form so quickly?
At the end of the day, even the best personnel needs to be put in the right spots to succeed. As seen with Manningham, that isn't as much of a given as was once previously thought.
Above all else, this has been the true Achilles heel of the 2013 San Francisco 49ers.
Tom Smeaton covers the San Francisco 49ers as a Featured Columnist for Bleacher Report. For thoughts on the 49ers and the NFL, reach out on Twitter by following @smeaton49.
Share
Tweet
G+
Flag Article
This article is
a duplicate
offensive
plagiarized
What is the duplicate article?
Why is this article offensive?
Where is this article plagiarized from?
Why is this article poorly edited?
Flag This Article
San Francisco 49ers: Like this team?
More Articles You'll Like
49ers Takeaways from Loss to Saints
Full 49ers Grades for Saints Game
Picking Every Week 12 Game
or sign up